Welsh Black stands out
By CATHERINE MILLER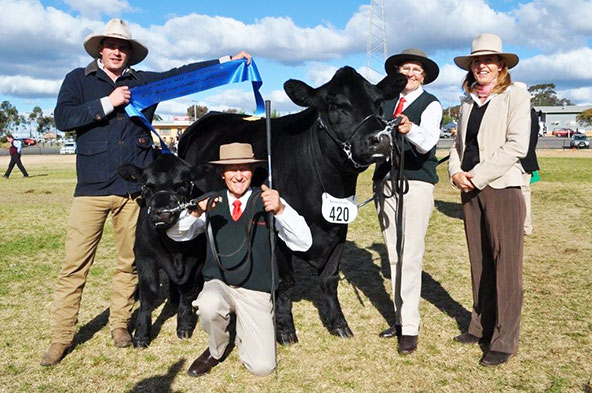 BIG DAY: Supreme interbreed exhibit and senior champion interbreed female went to Buchanan Park Nicole from Buchanan Park Welsh Black stud, Tynong, Victoria. Allan and Jill Furborough are pictured with Stock & Land stud stock representative Struan Pearce (far left) and one of the three interbreed judges Kerri Riddoch.
A MAGNIFICENT 3.5-year-old Welsh Black cow and a 7-month-old heifer calf from Buchanan Park stud has put the breed on top in the interbreed judging at National Beef 2013 at Bendigo, Victoria.
Breeders Allan and Jill Furburough, Tynong in Victoria's Gippsland won the major prize of a John Deere ride-on mower for Buchanan Park Nicole, edging out the best of 28 breeds represented from three states for supreme interbreed exhibit.
The three judges picked the senior female from the four junior and senior bull and female finalists.
It capped off a terrific day for Buchanan Park which had earlier won the interbreed breeders group-of-three animals.
Kerri Riddoch, Bright Valley, North East Victoria - who was one of the judges - stressed the importance of having good females as the foundation for breeding good bulls.
She said the 24 senior females were the pinnacle of judging, and the Welsh Black female was a standout. She praised the female as "oozing quality and femininity" with a good calf behind, and lovely udder.
"She is a middle-of-the-road, soft, easydoing female capable of fitting into every possible industry in terms of breeding," Ms Riddoch said.
"You could put any bull over her."
The Furburoughs have been breeding Welsh Black cattle for more than a decade. They had an interbreed champion at Bendigo in 2008, when they took out the junior bull title with Buchanan Park Jackson.
Ms Furburough said it was fitting that Jackson sired three of the four animals they exhibited at Bendigo this year.
"It is great to know he has had such a great influence on the stud - not all bulls breed on, but he has," she said.
A two-year-old Australian Shorthorn bull, Spencer Family Yogi, shown by David and Marion Spencer, Yuroke, Victoria was runner-up supreme interbreed exhibit.
The interbreed senior champion bull tipped the scales at 942 kilograms, with an eye muscle area of 130 square centimetres and fat cover of 20 millimetres rump and 15mm rib.
Western Australian judge Tony Golding, Little Meadows Angus stud, Dardanup said he was blown away by the structural correctness and eye muscle area of the cattle he had seen during his two days of judging.
"So many animals fitted my type of cattle with so much shape, softness and muscle capable of producing many steaks which will make money for the beef industry," he said.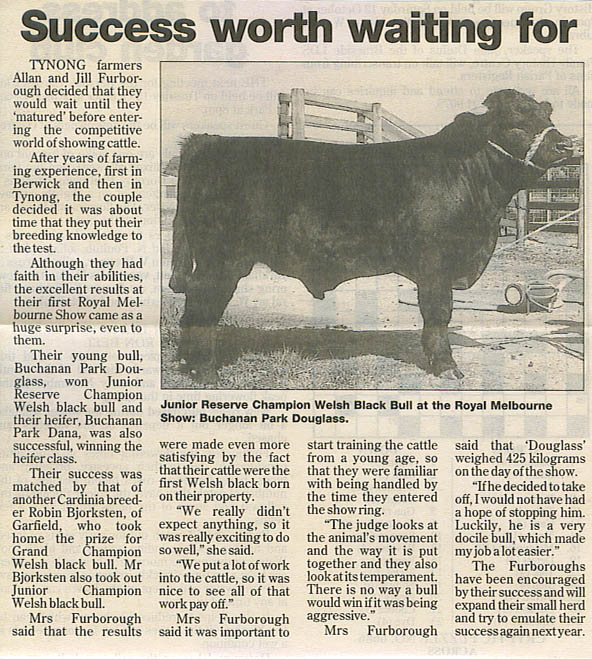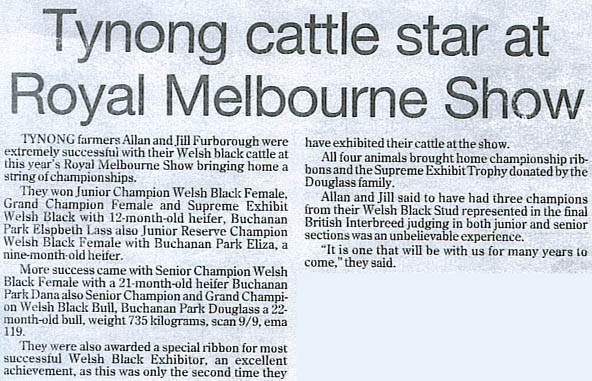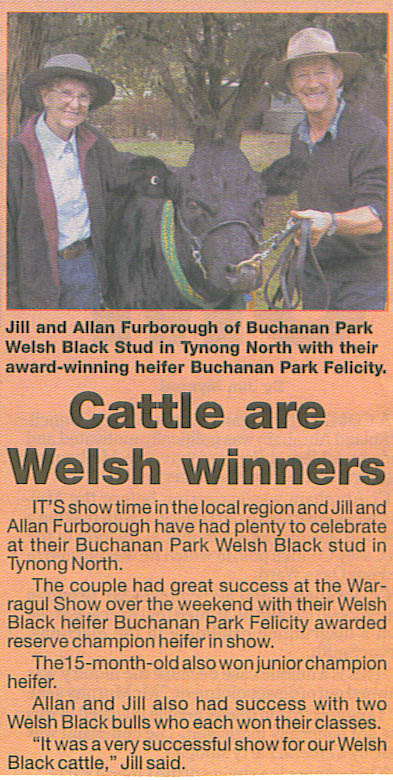 Source: Pakenham Gazette